by Global NetGeneration of Youth Cyberjournalist Tenderly Diaz
On December 1, 2016, my sister Taylore and I had the honor of attending the 3rd Annual MIE (Minorities in Energy Forum as STEM Ambassadors and Cyberjournalists representing my local HUD STEM Innovation Network in Hampton and the Global NetGeneration of Youth Community founded by Dr. Ronnie Lowenstein.
The all-day Forum, held at the posh City Club in Washington D.C. was convened by impressive government leaders from the U.S. Department of Energy, including Dr. Ernest Moniz, (Former) Secretary of Energy; Dr. Elizabeth Sherwood-Randall, (Former) Deputy Secretary of Energy; and Dr. La Doris Harris, (former) Director of the Office of Economic Impact and Diversity.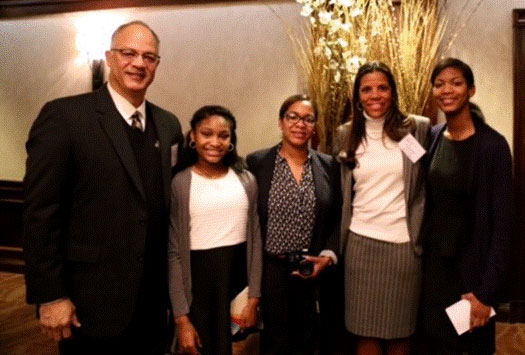 Mr. Jerryl Bennett, Director of the HUD STEM Innovation Network greeted our Hampton Virginia Team: NGY Cyberjournalist Taylore Livingston (13), Me- NGY Parent Liaison Mrs. Mary McBride; Hampton University VP for Research Dr. Michelle Penn-Marshall; & NGY Cyberjournalist Tenderly Diaz.
Dr. Ernest Moniz (Former) U. S. Secretary of Energy

Dr. Dot Harris, (Former) Director, Office of Economic Impact & Diversity

Dr. Elizabeth Sherwood Randall (Former) Deputy Secretary of Energy
The theme of the Forum was "Inclusive Innovation: Catalyzing our Future." The morning session provided an overview of both the opportunities and challenges the Department of Energy faces to ensure America's security and prosperity.  Highlighted was both the shortage of qualified professionals to solve problems of the future, and the strategies of diversity and inclusion that are considered essential to solving those problems.
In his opening remarks, Dr. Moniz acknowledged the history of the MIE initiative launched in 2013 to increase awareness and engagement of diverse communities and saluted the leadership and accomplishments of the Office of Economic Impact and Diversity working in partnership with private sector, community groups and MIE Ambassadors to ensure America's energy future.
Then, Dr. Moniz and Dr. Harris inducted the new MIE Ambassadors and Champions and Saluted Attending Ambassadors who share the passion and commitment to engage all Americans in the Energy Sector.

Dr. Moniz (Left) and Dr. Dot Harris awarding our Global NetGeneration of Youth Sponsor, Dr. Ronnie Lowenstein her plaque as a 2016 Minorities in Energy Ambassador.

Top row from Left- Roger Rocha, Jr, National President League of United Latin American Citizens, LULAC; Dr. J'Tia Hart, Research Analyst, National Nuclear Security Administration; Melonie D. Parker, VP Human Resources Sandia National Laboratories; Randa Fahmy, Founder Fahmy International; Dr. David Wilson, President Morgan State University; Dr. Ronnie Lowenstein, Founder-President Lowenstein & Associates, Inc; Jerome Ringo, Founder & Chairman of Zoetic Global Leadership accepting the award on behalf of David West, NBA Player & Zoetic Global Advisory Board Member; Bottom Row from Right- Albert Williams, VP San Joaquin Valley Business Unit for Chevron; Bei Leong Hong, President –CEO Knowledge Advantage, Inc.; Michelle Holiday, President Michelle Holiday & Associates; Dr. Dot Harris, (Former) Director of Office of Economic Impact & Diversity, Dr/ Ernest Moniz, (Former) U.S. Secretary of Energy; Dr. Kristina Johnson, Founder- CEO Cube Hydro Partners; Robert Gee, President Gee Strategies Group, LLC; Dr. Njema Frazier, Physicist in Department of Energy's National Nuclear Security Administration; Tony Baylis, Director Strategic Diversity and Inclusion Program at Lawrence Livermore National Laboratory.

The Honorable Sheila Jackson Lee from 18th Congressional District centered in Houston promotes Innovation, Research and Education in Energy with a focus on diversity and inclusion, ie., women and minorities.
Other inspiring presenters included government agency staff, who were either appointed MIE Ambassadors, Honorary MIE Ambassadors like Congresswoman Sheila Jackson Lee from Texas, or appointed 'Champions' of the Minorities in Energy.' We learned so much as panelists discussed the economics of the energy sector, how to use and produce energy in a positive way, and how to make energy careers more appealing to youth. Many shared brief personal anecdotes and words of wisdom.
Throughout the day, in between panel presentations, we were privileged to conduct a few Cyberjournalist interviews of speakers and guests. We had prepared two questions to guide the interview chats: What inspired you to pursue your career? And what message would you like to send to youth around the world?
As I reflect, I must say that I had a great time opening myself up to the responses and different perspectives each person had about energy and its importance in America. I was so inspired by the encouragement each person offered and by the personal stories they shared. I remain grateful to obtaining a lot of jewels on how to be successful by networking.
One of my favorite interviews was with Lezli Baskerville, J.D. who is the fifth and first female President & CEO of the National Association for Equal Opportunity in Higher Education (NAFEO). Ms. Baskerville, who graduated from Howard University Law School, is recognized as an expert on equal educational and employment opportunity, education access and diversity issues. I found her to be very charismatic, outgoing, and a role model. "What I want everyone to know is that I am here for you, I am your friend, I am your sister. I am here to help you succeed. " Without a doubt, I believe her.
Another unforgettable memory was just being in the room and listening to a Fireside Chat between Dr. Dot Harris and MIE Ambassador David Steward.  Mr. Steward rose from a childhood of poverty and racial discrimination to found World Wide Technologies, one of the largest African-owned businesses in America that is now worth over $9.4 billion dollars.   He also is an author of a best-selling book entitled Doing Business by the Good Book: Fifty Two Lessons on Success Straight from the Bible.  One lesson I took to heart is to "Walk in Faith.  Be fearless, for 'God did not give us the spirit of fear, but of power and love and a sound mind."
Ms Lezli Baskerville sharing her life journey with NGY Cyberjournalist Tenderly Diaz as Cybjerjournalist Taylore Livingstone takes notes.

Dr. Dot Harris in Fireside Chat with MIE Ambassador David Steward
In conclusion, serving as a Global NetGeneration of Youth Cyberjournalist at the 2016 MIE III Annual Forum is so far the most influential of my life experiences. I am looking forward to having other Cyberjournalist opportunities so I can influence others to achieve their goals, like the people I had met and interviewed.
---
See article authored by Educator from Virginia's State STEM Magnet High School:
"Inspiring Diversity and Evolving an Innovation Nation at the 2016 Minorities in Energy III Annual Forum", by Mrs. Lisa Wu, Lab Director of Oceanography and Geophysical Sciences, Thomas Jefferson High School for Science and Technology
SEE article authored by the Global NetGeneration of Youth Team from Virginia STEM Magnet School, Thomas Jefferson High School for Science & Technology:
"The Present and Future Enriched by a Diverse Energy Workforce: Reflections of the 2016 Minorities in Energy III Annual Forum", by Ria Sonawane and Sarah Crossen, Global NetGeneration of Youth Cyberjournalists from Thomas Jefferson HS for Science & Technology, in Virginia
See two articles authored by the Global NetGeneration of Youth Team from HUD's STEM Innovation Network in Hampton:
1. "A STEM-fluential Celebration of the 2016 Minorities in Energy III Annual Forum: A Parent's Perspective", by Ms. Mary McBride, Parent Liaison to HUD STEM Innovation Network and to Global NetGeneration of Youth
2. "A STEM-fluential Celebration of the 2016 Minorities in Energy III Annual Forum: Personal Confessions", by Global NetGeneration of Youth Cyberjournalist Taylore Livingston